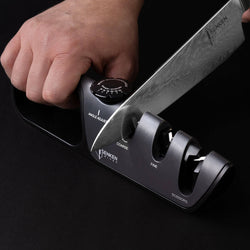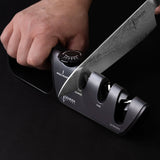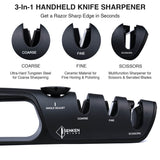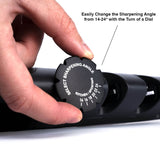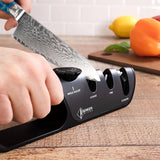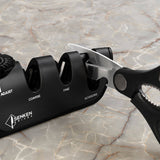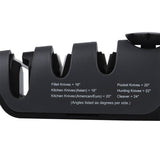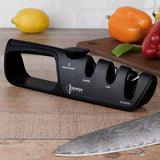 Ships Immediately from the USA with Tracked Shipping
Our 3-Stage Handheld Knife Sharpener comes with an easy-turn adjustable angle dial that quickly allows you to set the sharpening angle from 14 to 24 degrees.
Accommodates Japanese, German, and American Kitchen Knives, as well as Pocket Knives, Hunting Knives, and Cleavers.
The 3-in-1 sharpener allows you to quickly hone and sharpen your knives, and also includes a slot for sharpening scissors as well as serrated blades.
The convenient handheld design allows you to get your kitchen knives in razor sharp condition in mere seconds anywhere. 
Use the COARSE slot to sharpen your knives, and the FINE slot to hone your knives.
Comes with instructions on how to properly use the knife sharpener as well as the function of each slot.
Our Quality Guarantee
At Senken Knives, our goal is simple: to create the finest, most stylish knives at affordable prices. Incorporating both modern as well as ancient knife-making techniques, we are masters our our craft and can't wait to bring our chef knives into your kitchen.
We are meticulous about our products and pride ourselves in providing only the highest quality possible.
We know you'll love your Senken knives for years to come - making a difference in the quality of lives of our customers is what makes us do what we do.
Express Worldwide Shipping (with Insurance & Tracking Number)

30-day Money-Back Guarantee

100% encrypted SSL secure checkout

 
Have any questions? Send us an email at support@senkenknives.com and we'll get back to you right away.